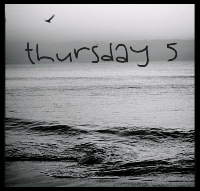 Still looking for a New Year Resolution?
How about linking up with Thursday Five every week?
That way you can look back on the things that have made you...
lucky
joyed
Me and Danny are so
lucky
to have made great friends in North Carolina. This weekend we said "see ya later" to another couple. Carmen and Mike have become such amazing friends...we are going to miss them so much.
I got a huge Omaha Steak order the other day. When I opened it the contents were TOO cold, I was burned by the packages and got blisters on my fingers. I tweeted it, Omaha Steaks saw it and I'm
delighted
to say they are sending me creme brule and filet mignon as a way to say sorry!
We hit up Walmart and Kmart over the weekend for some awesome Christmas decorating savings. $15 at Walmart and $30 at Kmart and we are all set for next Christmas. I was
ecstatic
with the savings!
I was so
giggly
when UPS delivered my 2010 scrapbook from Shutterfly. I am so happy with it...and can't wait for people to come over so I can show it off!
It's the big weekend for Katie and Frank! I am so
joyed
to be a part of it!