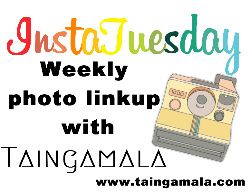 I'm playing InstaTuesday catch up this week...and I
still
don't have that many pictures to share. Here are a few pictures from the past two weeks!
1. A new comfy sweater...that makes me look super skinny. I think it might be my new favorite!
2. Wine and Home Improvement. The perfect Friday night!
3. Snuggling with my puppy. She always knows when I don't feel good.
4. Danny got me a new present. A stun gun? Thanks babe.